TetraMap® Facilitator Certification Course
For Executive Coaches, Leaders, HR Managers, Life Coaches who need a simple, elegant, multidimensional tool to work with clients and employees.
Every strong organisation has a vision driven by passion.
TetraMap® founders, Jon and Yoshimi Brett, are dedicated to reducing conflict and valuing diversity.
Sustainability
We are alert to the impacts of our behaviours, actions, and thoughts, working always toward sustainable solutions.
Transparency
We openly and honestly disclose information to keep things clean and clear.
Responsibility
We engender trust in self and others and accept accountability for our actions.
Inter-dependence
We demonstrate respect for diversity by finding ways to work collaboratively and synergistically with others.
Creativity
We proactively seek better solutions and peaceful outcomes. Holism: We work knowing that everything is connected to everything.
Holism
We work knowing that everything is connected to everything.
1000+ Certified Facilitators
Affecting the face of business worldwide.
1000+ Certified Facilitators
Affecting the face of business worldwide.
Translated into 8 languages
Including German, Dutch, Polish and Spanish.
Translated into 8 languages
Including German, Dutch, Polish and Spanish.
40,000+ instruments used
4 workbooks are available for understanding behaviour, team building, planning, sales & service.
40,000+ instruments used
4 workbooks are available for understanding behaviour, team building, planning, sales & service.
Used in 20 countries
Including UK, Australia, Poland, Germany, France, New Zealand, Dubai, Netherlands, and Singapore.
Used in 20 countries
Including UK, Australia, Poland, Germany, France, New Zealand, Dubai, Netherlands, and Singapore.
TETRAMAP® AT WORK
TetraMap® as a model, tool, framework, and approach is rapidly growing in value and popularity in Singapore. '
Discovered by CLD (Centre for Leadership Development, Singapore Armed Forces) in 2008, TetraMap® is now successfully integrated into SAF as well as organisations such as Deutsche Bank Global and Nationwide, UK.
CONFLICT
Conflict is the #1 reason for employee dissatisfaction.
Conflict shows up when what we believe should be happening, isn't. Assumptions keep conflict in control.
"Finance didn't approve the budget in time."
"Projects hasn't given us an approved timeline."
"I wasn't certain what the next step was."
They sound like excuses, but these are real issues that stop communication. Real communication involves a common vocabulary and framework that TetraMap® provides permitting people to be who they are while developing new skills.
NEVER MISS AN OPPORTUNITY
Solid short- and long-term plans make a measurable impact.
So many leaders and managers have ideas, plan them out and push them forward.
Communication of the idea and tasks in a structured framework provides a reference point when the team is critical, indecisive, distracted, or blunt.
Each of these behaviours holds a message that is easily understood and reacted to without conflict through TetraMap®.
HUMAN RESOURCE FOR YOU
Success is dependent on empowered team players.
People who are clear about their roles, feel calm and valued, are respected for their bright ideas and attitudes, and see firm foundations being laid make excellent team members.
TetraMap® vocabulary unifies the human resource element in business and provides a n immediately accessible, actionable platform for team growth.
This online certification course offers high-value professional and personal development for facilitators, trainers, consultants – anyone involved in Organizational Development (OD) / Leadership Development (LD) initiatives that support individuals and teams through change.
With certification comes a deeper understanding of TetraMap® to enrich all your programmes and consulting, from context-setting to achieving learner outcomes.
Your Certification Includes
4 Core Learning Lessons and 3 Supplementary coaching Sessions (total of 14.5 learning hours)
Certified TetraMap® Facilitator Bag
Certified TetraMap® Facilitator Handbook
5 Workbooks: Why are you like that?
1 Workbook: Why are they like that?
1 Workbook Why is the customer like that?
1 Workbook Why are we doing this?
Certified TetraMap® facilitator page on the official website
Plus online access to all support materials including:
Why Are You Like That? leader guides and PowerPoint slides
Graphics for marketing and logos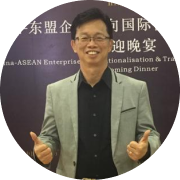 Raymond Yap Pik Hwee
Master TetraMap Facilitator
Raymond Yap is an active and experienced trainer, executive coach and management consultant. He has facilitated hundreds of workshops and meetings for senior management and operations staff using TetraMap® and Large Group Intervention processes.
Raymond has served in the Republic of Singapore Air Force (RSAF) for 25 years before his consulting career. His vast experience with the RSAF covers the areas of operations, training, human resource planning and management, budget control and strategic planning. These experiences set the foundation for him to becoming an active, experienced and professional trainer, consultant and executive coach.
Raymond has serves as Executive Coach for Singapore Armed Force (SAF) since Nov 2007. He has since then coaches more than 50 SAF senior officers. Raymond has certified as qualified coach with Stolmack Group Pte Ltd (Australia), University of Lancaster (UK) and Erickson Coaching International (Canada) and is is an established Master TetraMap® Facilitator certified by the founders, Yoshimi and Jon Brett.
Vivien Hui
Master TetraMap Facilitator
Vivien Hui is seasoned and energetic facilitator. She found ESSENTIA after her 15+ years of successful corporate experience in the field of Learning & Development as well as in Sales & Consulting. Vivien believes that learning can be enriching and also can be fun! Vivien had delivered workshops for local & global enterprises, Fortune 500 organizations and in education and public sector. She had inspired thousands of learners with her engaging facilitation style. Vivien graduated her EMBA with distinction from University of Hull and BBA from the University of Hong Kong.
Vivien is the 1st Certified TetraMap® Facilitator in the Greater China Region, Certified MasterCoach Facilitator, Certified Facilitator in LEGO® Serious Play® method & material as well as a passionate certified yoga teacher.
Jack Wong
Master TetraMap Facilitator
I am a serial entrepreneur and an Amazon best-selling author of Cracking the Entrepreneur Code. I have also published 3 other books – Creating Customers for Life, Essentials of Expatriate Tax, and The 7-Figure Closing System.
Graduated with a double degree in law and accounting and two (2) Master Degrees (M.B.A. and Master of Laws), I spent his first 17 years in an international accounting firm and an international law firm as an international tax consultant and lawyer.
As a workshop facilitator with more than 20 years of experience, running many in-house workshops and speaking in public conferences for his former employers, I then started my next business by conducting customised training and workshops in the areas of international tax, business ethics, sales & closing, entrepreneurship strategies, and personal development topics. Since 2018, I have also trained over 116 master graduates in Myanmar, Malaysia, Thailand, and Singapore to empower them to run their own programs and make irresistible offers to their ideal prospects both online and offline.
I am one of the twelve (12) Licensed Trainers in Neuro-Linguistic Programming® in Singapore who is endorsed by Dr. Richard Bandler (Co-Founder of NLP) and the Society of NLP. I am also a Certified & Licensed B.A.N.K. Trainer, a Certified B.A.N.K. IOS Coach, a Certified Graduate of Blair Singer Training Academy and a Master TetraMap® Facilitator from TetraMap International.
The TetraMap® Certification Learning Experience
WHAT YOU WILL LEARN IN THE COURSE
4 core learning sessions and 3 supplementary coaching sessions (total of 14.5 learning hours)
TetraMap®'s Master Facilitator live course instruction
TetraMap® e-learning certification system with e-book and learning materials (reading material, video and acitivity)
Structured and learner-centered program library
Discovery-based learning which is interactive and fun!
HOW YOU CAN BENEFIT FROM TETRAMAP®
With the certification, you will:
You can enrich your understanding of facilitation and enhance your skills;
You can integrate TetraMap® into any Organisational Development programmes;
You will have the confidence to facilitate TetraMap® effectively and easily;
You will strengthen your work and personal relationships and widen your network of inspiring, supportive people;
You will have the tools, techniques, and stories to start your TetraJourney with;
You can explore how TetraMap® becomes a valuable life-long learning tool and thinking framework;
Check out the raving reviews
by our past participants
"TetraMap® has made an impact that goes above and beyond performance at a team level. The use of nature as a metaphor and the simplicity of TetraMap® is one of the key reasons our people have so readily bought into it. TetraMap® creates an excellent framework for more effective communication and collaboration."
"The power of TetraMap® is its simplicity to engage minds and optimise thinking for increased learning and collaboration. My clients applaud it as it focuses on strengths, leveraging their diversity, and can be easily applied in whatever challenge is being faced."
"TetraMap® is easy for people to understand, grasp, and start using in a short time. I'm still often amazed at its accuracy for what appears to be a reasonably simplistic analysis tool; the knowledge and conceptual component appears to be infinite.

TetraMap® automatically increases team cohesiveness which is often additional value to what the training was designed to achieve."
"It's a phenomenally powerful tool for managers to communicate more effectively with their team."
"TetraMap® has been a wonderful resource for us at Hamilton City Council. We introduced it to our senior leaders who readily adopted the language and began to cascade it down to their respective teams.
We have since incorporated TetraMap® into our Leadership Development Programme and this has been hugely successful with assisting our leaders to better understand themselves and others who they work with.
There are other similar tools to TetraMap® however the standout feature for us is the simplicity of the concepts and the language enabling wide application and understanding."
FAQ
Please let me know if you have a question and I will post it here for everyone to benefit.
CAN I RECEIVE MY CERTIFICATE IF I MISS A FEW HOURS?
The TetraMap® Certification is given in the same context all around the world. To ensure that all certified facilitators receive the same information, it is only awarded at the end of the two and a half day course upon completion.
IF I FIND I CANNOT ATTEND, CAN I TRANSFER MY REGISTRATION?
Yes, you can. This must be done 2 weeks before the course in whichever city you are participating in in order to be valid.
IS THERE A COST TO USE THE TETRAMAP® TOOL?
Each time you use any of the TetraMap® workbooks with a client, you purchase the tool from an authorised dealer.
If you work with a client over various trainings, you only pay for one workbook per person one time.
WHAT IS THE DRESS CODE?
This is a hands-on workshop, so come comfortable in business casual.
HOW DO I SIGN UP FOR THE EVENT?
After clicking on the sign up links below and making the payment, you will then receive an email with instructions for registering for the event.
2021 Batch 3
Date & Time:
06-Aug: 9:00 AM – 3:00 PM
13-Aug: 9:00 AM – 3:00 PM
20-Aug: 8:00 PM – 9:30 PM
27-Aug: 8:00 PM – 9:30 PM
03-Sep: 8:00 PM – 9:30 PM
2021 Batch 4
Date & Time:
12-Nov: 9:00 AM – 3:00 PM
19-Nov: 9:00 AM – 3:00 PM
26-Nov: 8:00 PM – 9:30 PM
03-Dec: 8:00 PM – 9:30 PM
10-Dec: 8:00 PM – 9:30 PM
Copyright © 2021 Tetra Excellence Consulting Pte Ltd. All Rights Reserved.
Tetramap is a registered trademark of TetraMap International in NZ and other countries. www.tetramap.com